Hope to Home
Five things to buy second hand for your first baby placement
You may have been a foster parent for years without a baby placement, or you may have been called and told your relative birthed a baby exposed, and would you care for him? However, your newborn foster baby arrived, I have listed my top five things to buy second hand for your first baby placement. Sometimes quality over new is best.
Changes
My oldest biological son was born in 2000. In 2018 our first newborn foster daughter was placed with us. A lot has changed. Most of the changes I noticed are in the advancement of "stuff." Baby gear. Well, that and the number of vaccines they receive now, but I won't get off on a tangent. Baby gear has made some HUGE advancements. Some items exist that didn't two decades ago, and some things are just plain better. So that part has been a lot of fun.
FREE Foster Parent Home Prep Checklist!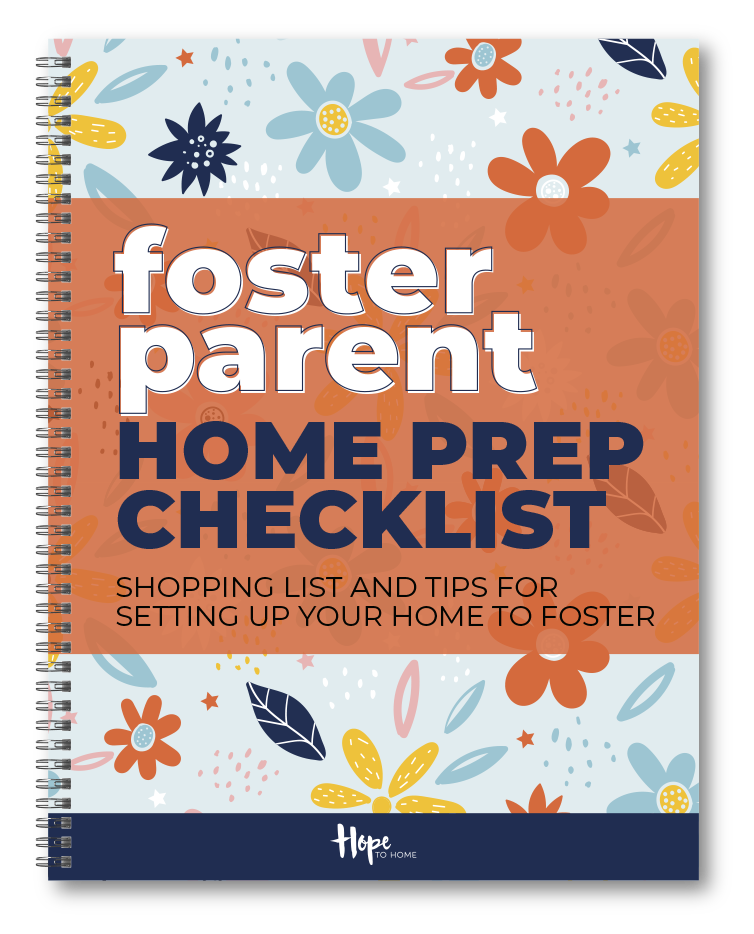 Curious about what you should buy before your first FOSTER CHILD placement? Download our FREE Foster Parent Home Prep Checklist. It can help you shop for, the top 10 items to have on hand for your foster child and the top 10 items you need for your home visit.
The other thing I noticed is I am a lot less stressed out striving to do everything right. Babies and kids are so different. They have different ways of communicating and different needs. Different ways they feel love and different ways of expressing love. Try not to be stressed out… Enough stressful things are going on in fostering. Or caring for a fictive kin placement, making sure they are starting soft food right on "time," is not one of them. Ask your pediatrician if you have timing concerns. I grabbed a copy of "What to expect the first year" book second hand and have made some references to it, but not as many as I thought I needed.
You can get higher quality
I had lined out what I had found the most valuable to have on hand before our newborn girl arrived. Five things to buy second hand for your first baby placement. There were MANY things that I bought second hand on Facebook Marketplace or Craigslist. I opted to go for the higher quality items used, vs. lower quality items new: my favorite find, a Bugaboo Chameleon stroller. I wanted one that could easily trek baby across the grass. To cheer on my son at his cross country meets. I found one for $100 used ($800 new), and it is incredible!
Ask around
So don't be afraid to look for items used. Especially swings, gliders, and things babies may not use for very long. I indicated these items that I had from my bio children purchased second hand or have been gifted. If you know any families that are done having children, they may be VERY eager to pass along their baby items to foster parents. We received several things from a family that was moving out of state and were blessed with some nursery items I wouldn't have thought of purchasing.
OK, so here is my list of
FIVE THINGS TO BUY SECOND HAND FOR YOUR FIRST FOSTER BABY PLACEMENT
1. CRIB:
I happened to have kept my bio boys crib in the basement "just in case". It was still in perfect condition. We used it for our first placement as well and then packed it up for our second placement and assembled it again for our third placement, our newborn. You can buy a crib, ask if any friends are getting rid of their cribs, or look on Facebook Marketplace or craigslist or baby/kid second-hand stores in your area. I see cribs for sale or give away quite often. Make sure it is sturdy and to code with your licensing agency. Make sure you have a waterproof crib mattress. Fitted crib sheets and a blankie is a bonus.
NOTE: Our agency gave us a certain amount of money to spend. The first time a child is in care they receive either vouchers or set amount for reimbursement. Either the caseworker or you will purchase needed (approved) items that will be reimbursed. Check with your agency. Ours would have approved a crib, but since we already had one, we were able to use our reimbursement for diapers, crib sheets, and other necessities.
2. CAR SEAT:
You can't leave the house without a car seat. Enough said. OK, maybe a little more needs to be said. Some people opt for a convertible car seat, which is the most versatile if you are not sure what age you may receive. Convertibles are made to be used for infants and as they grow, usually into their toddler years.
We actually did buy a really nice, brand new, convertible car seat on clearance when we were going through the licensing process. It was convenient to have since our first placement we needed 2 car seats. We were given one car seat, and we had the other one, so that worked out nicely. It was not their first time in care, so we didn't receive vouchers or reimbursement of any extra items needed for them.
However, with our newborn placement, we opted to buy an infant carrier car seat. First, I borrowed one from a friend to use to bring the baby home from the hospital. Then we purchased the Bugaboo stroller, and I found a carrier car seat that would work on the adapter for the stroller. It was a sweet setup. So, to wrap all that up, get a convertible. You may want to get an infant carrier type too, but at least you will have something. Again, feel free to look for used. Be careful to check the expiration dates.
3. SWING:
Having almost two decades between my oldest bio son and my youngest foster child, made me realize how much baby gear has changed. There are a million different types of swings out there. When we were going through the licensing process, I would stalk Target looking for clearance deals. It is how I found our car seat, pack and play, lots of clothes and swing.
When we were placed with our newborn, the early intervention worker visited us. She was giving me tips on how to soothe a crack exposed baby. Advice she said was to rock her side to side instead of front to back (like my swing did). So, I looked on Facebook Marketplace and found a Nuna Leaf Chair, usually several hundred dollars new, for $40. It sways side to side as suggested, and it was barely used. It was not automatic, but I would push her, and it would swing for a few minutes, and she loved it! My foster daughter still loves it, and she is now almost 2.
That is why I encourage you to find top of the line, used, excellent condition items. It is hard to know if things will even work with your child. So spending more than you need to, just doesn't make sense.
4. BABY CARRIER:
Lots of people know bonding with a baby is essential. However, do you know that not bonding with a baby or child can cause many issues later on in life? Bonding is critical in the lives of foster children because their bond with their birth parents has been disrupted. Bonding doesn't have to be by a birth parent. Caregivers can provide a bonding experience.
An easy way to make sure you are giving bonding time with your foster baby is to invest in a baby carrier. I have tried 4 different types of carriers with our baby and toddler. Staying home from work for eight weeks after our baby girl was placed gave us quality bonding time. I wore her around the house as much as I could. I listed my top 3 carriers for the list of five things to buy second hand for your first baby placement.
Disclosure: This post contains affiliate links, meaning I get a commission if you decide to make a purchase through my links, at no cost to you. As an Amazon Associate, I earn from qualifying purchases.
My favorites:
Tula.
Versatile, weight from 7-45lbs. Adjustable, so mom or dad can wear it. Browse their options for yourself, but this is the most comfortable carrier I have used. The shoulder straps stay put, and the distribution of your child's weight is easy on your back and shoulders. Optional insert for newborns, but I opted for a Baby K'tan during the first few months our foster baby arrived.

Baby K'tan:
Very comfy, very natural feeling, and keeps baby super close to your body. You choose a size according to your body, and you want it to be snug. I am 5' 7" and 125lbs, and I have an XS. We bought our off Facebook Marketplace, and I was so happy that I did. Very easy to put on and get baby in. The most natural position to hold her close. In addition, your arms are free! The only downfall is my husband couldn't use it with her, but that was fine. We only used this one until she was about 3 months old. Then switched to the Tula.

Infantino:
Another more affordable option is the Infantino Flip 4-in-1 Convertible Carrier. When I tried using this one, it wasn't as comfortable as the Tula. I had a harder time getting baby in and out, but the price is great, and the option to have the baby facing out is helpful as they get bigger. The straps are not as padded and wide, but you can see the price difference is significant from the others. If this is what you can afford, it is a good option.

5. TINY LOVE MOBILE:
This is not just any mobile. This is a MUST in a nursery, in my opinion. I will be posting about my favorite inventions since I first became a mom, and this one will be number 1. Our baby LOVED this mobile and still has it in her crib at 20 months. It transforms into a music box when your baby gets big enough to pull at the mobile. Bonus! She can now pick the music she wants. She would watch the spinning characters that not only turn, but then each character also spins, it is truly a masterpiece of baby engineering! I have recommended it to other new moms, and they say the same thing. Trust me, it is genius.

That wraps up the list. Five things to buy second hand for your first baby placement. There are so many things you CAN buy. However, these are my absolute top of the list. Purchasing them second hand is a great option.
Happy shopping!
https://www.hopetohome.com/wp-content/uploads/2020/03/top5baby_items_used.jpg
996
1500
Hope to Home
https://www.hopetohome.com/wp-content/uploads/2019/05/Hope_To_Home_Logo.png
Hope to Home
2020-03-12 01:07:06
2020-10-29 12:30:44
Five things to buy second hand for your first baby placement