10 Ways to Pray for your Foster Child
10 WAYS TO PRAY FOR YOUR FOSTER CHILD can help in those moments when you don't know what to pray. God tells us to pray continually, but when it comes to praying for my foster child, sometimes it's hard to know where to start. There's no doubt that every child needs prayer, and considering the circumstances, your foster child has faced, there's nothing they need more than your prayers. I am so grateful that the Holy Spirit intercedes for us even when we don't know what to pray, but if you're looking for a place to start, here are ten ways to pray for your foster child:
1.
PRAY THEY WOULD KNOW THEY ARE LOVED.
1 John 3:1
Romans 5:8
This may be one of the most important things to pray because, as your foster child grows up, they will face over and over again the reminder that someone in their life was not able to love them in the way they needed. This can be reaffirmed for many foster kids if they face the instability of not knowing where their forever home will be. Many negative behaviors that kids tend towards as they grow older stem from wanting someone to answer the question, "am I loved?" It is so powerful to know that God has answered that question with love so full that nothing we do can shake it. Pray that your child will know this love and will experience glimpses of it through your family.
FREE Foster Parent Home Prep Checklist!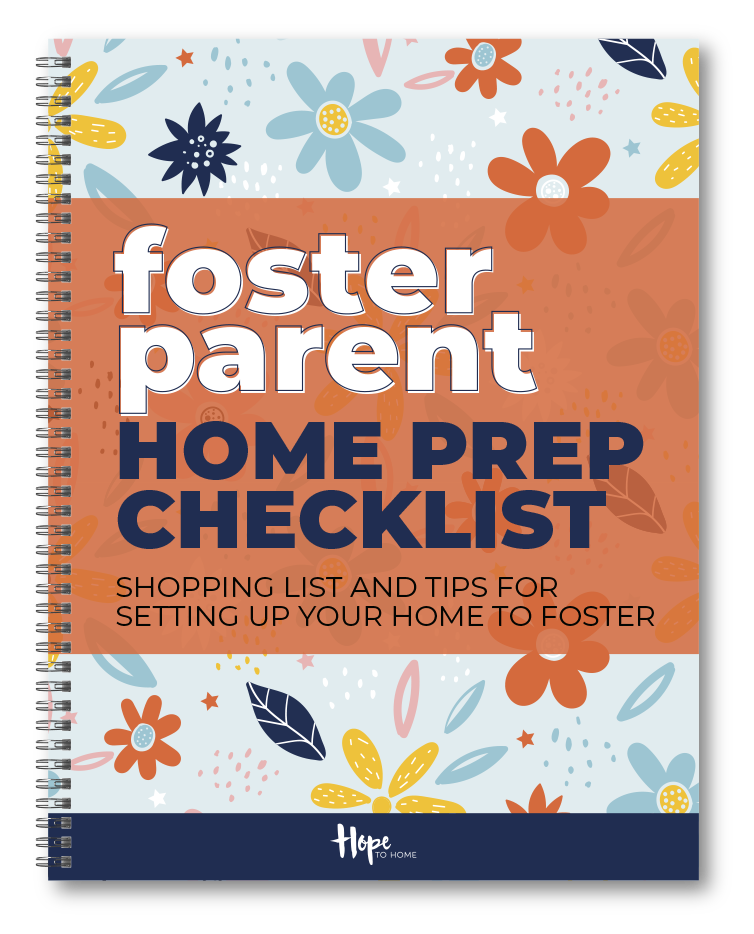 Curious about what you should buy before your first FOSTER CHILD placement? Download our FREE Foster Parent Home Prep Checklist. It can help you shop for, the top 10 items to have on hand for your foster child and the top 10 items you need for your home visit.
2.
PRAY THEY WOULD FIND PLACES THEY FEEL SAFE TO DROP THEIR DEFENSES.
Psalm 23:2-3
Children who come from messy situations sometimes find it difficult to trust or open up to those around them, especially if a parent or guardian broke that trust in their early years. If your foster child is still a baby or toddler, this might be a preemptive prayer that they would find your home a safe place to be open and honest as they grow older and wrestle with complex emotions about home, family, and belonging. If your child is a bit older, or even if you've already seen them put their defenses up, we know that prayer is a powerful way to see God soften hearts and bring healing to brokenness. Psalm 23 is a great reminder that God is a good shepherd that we can trust, and as we try to shepherd our children well, let's pray that they find us trustworthy in the same safe, loving way.
3.
PRAY THAT THEY WILL LEARN TO TRUST AND RESPECT AUTHORITY.
Romans 13:1
1 Peter 2:13-15
Parents are often the first authority that we learn to trust, but as your child grows older, they will face many more, from teachers to police officers. Learning to respect these authorities and knowing that they are good people who want to help is something that foster children can struggle with. All children like to test the limits, but children with an innate distrust can push the boundaries even more than usual. Pray that the authorities God introduces into their life would be truly trustworthy and would fight for the good of your child, even if they push the boundaries. 
4.
PRAY THAT THEY WOULD BE PROTECTED FROM THOSE WHO WISH TO HARM THEM.
Psalm 140:4
From bullies to toxic family members, every child will face their fair share of challenges in this area. But often it is these people that can cause the most harm as a child grows and develops. Even when we, as parents, can't be with them at every moment to protect them…we know the One who can. Pray that God would be with your littles as they interact with others and would protect them from any people who would wish harm upon them.  
5.
PRAY THAT THEY WOULD BE PROTECTED FROM THE ENEMY.
2 Thessalonians 3:3
The Bible says that our enemy prowls around like a lion seeking someone to devour. It also says that our enemy seeks to steal, kill, and destroy. He is the father of lies, but sometimes those lies show up in subtle twisted ways rather than obviously evil ways. As Believers, lies, sin, and destruction have no place in our homes or families. We can rebuke evil and pray against any influence the enemy may have on our children. Pray that God would protect your child from evil, lies, attacks from the enemy himself, or the influence of things that are not of God.
6.
PRAY THAT THEY WOULD HATE WHAT IS EVIL, AND LOVE WHAT IS GOOD.
Romans 12:9
Our biggest downfall as sinful beings is that we love the wrong things. Often we have a love for things that aren't good for us. As your child grows up and explores the world, they will be faced with good and evil. As Romans says, pray that your child will have the discernment to hate what is evil and love what is good. Pray that as they are exposed to wrong, it will leave a bad taste in their mouth. Pray that they would know the joy of following God's law and the delight of walking in obedience to Him.
7.
PRAY THAT THEY WOULD FIND THEIR IDENTITY IN THEIR MAKER.
Genesis 1:27
2 Corinthians 5:17
He knit them in their mother's womb, and they are fearfully and wonderfully made. While the world might have them doubt their worth, pray that they would know who their Maker is and would see the worthiness of themselves as His creation. He doesn't make mistakes. Pray that they would come into a full understanding of who Jesus is and would have a deep relationship with him throughout their life. 
8.
PRAY FOR A REPENTANT, TEACHABLE HEART.
2 Corinthians 7:9-11
Proverbs 12:1
From the moment a child can look at you defiantly when you say "no," it's obvious that they have hearts in need of a Savior. Pray that as the gospel is proclaimed and lived out in your home, they would come to a place of acceptance of the gift of salvation. As you train them up in the way, they should go, pray that they might not depart from it, but would be teachable, with soft hearts that recognize when they've done wrong and are repentant to God and man with a desire to make things right. 
9.
PRAY THAT THEY WOULD LEARN TO SUFFER WELL AND BE RESTORED BY JESUS.
1 Peter 5:10
As they grow older, they will grapple with the concepts of identity, belonging, and love. We all have baggage from our lives, but foster children might be prone to feel the weight of more baggage from a much earlier age. Pray that they would process these things with Jesus and that they would find deep healing by casting their burdens on Him as their healer and redeemer. He grieves their losses with them. This was not how things were supposed to be. But he also promises to turn ashes into beauty and to wipe every tear from their eyes. Pray that they would experience this deep restoration in the arms of their Savior. 
10.
PRAY THAT THEY WOULD KNOW THEY ARE NOT ALONE.
Deuteronomy 31:6
Matt. 28:20
When the idea of having a family becomes confusing and complex, and the idea of unconditional love becomes difficult to imagine, it can be easy to feel utterly alone. Especially as children, foster kids have often faced circumstances that few of their friends even understand. As they grow older and begin to find where they fit in the world, there may still be a sense of listlessness and loneliness that they feel. Pray that your child would know they are never alone. Pray that your home would be a haven they can always run back to and that they would know that Christ will never leave or forsake them no matter where they find themselves.
https://www.hopetohome.com/wp-content/uploads/2020/08/prayingforyourfosterchild.jpg
985
1500
Hope to Home
https://www.hopetohome.com/wp-content/uploads/2019/05/Hope_To_Home_Logo.png
Hope to Home
2020-08-05 19:45:44
2020-10-05 20:17:37
10 Ways to Pray for your Foster Child